Erica Gaffney
Business Support Manager
My work: working together with Learning and Development teams to manage brilliant training programmes.
I project manage and co-ordinate Strengthening Practice's national delivery of training programmes. This includes supporting the trainers and being the main contact for Learning and Development (L&D) teams. I love my job as I'm a natural organiser ('bossy'!) and problem solver. It's wonderful to be part of such a great team and work with some fantastic L&D teams around the country to make a difference to children and families in the UK.
What's a quote you live by or that inspires you?
"In life's brief game to be a winner
A man must have…oh yes, above
All else, of course, someone to love."
Vikram Seth, The Golden Gate
 What are three key values that guide your life choices?
Enjoy the moment

Celebrate the small things too

Kindness
What makes you laugh?
Other people crying with laughter, I find this so infectious.
Jacques Tati – the epitome of great physical comedy.
"The Producers" with Nathan Lane and Matthew Broderick – always has me crying with laughter, especially if I am watching it with my husband.
Terry Pratchett books – I particularly like the Witches!
My sister.
What has been your proudest moment?
Moving to live and work in Rome, not knowing anyone or the language. Learning the language whilst living there and meeting lifelong friends.
 What has been your proudest moment at work?
A successful crowdfunding campaign for an arts venue. I loved the whole process from learning how to make it successful, to directing the film, collaborating with many wonderful people and the support it garnered.
 What makes you get up each morning?
A cup of tea
How do you want to be remembered?
As being kind and funny.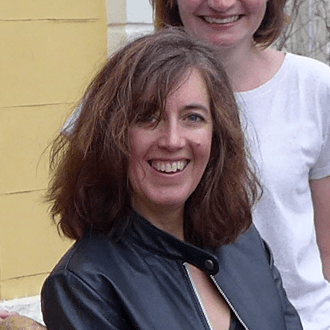 "What's one piece of wisdom that guides you?
Always try to understand other people's point of view or why they might be behaving the way they do – it makes you more tolerant and understand that it is not a reflection on you".