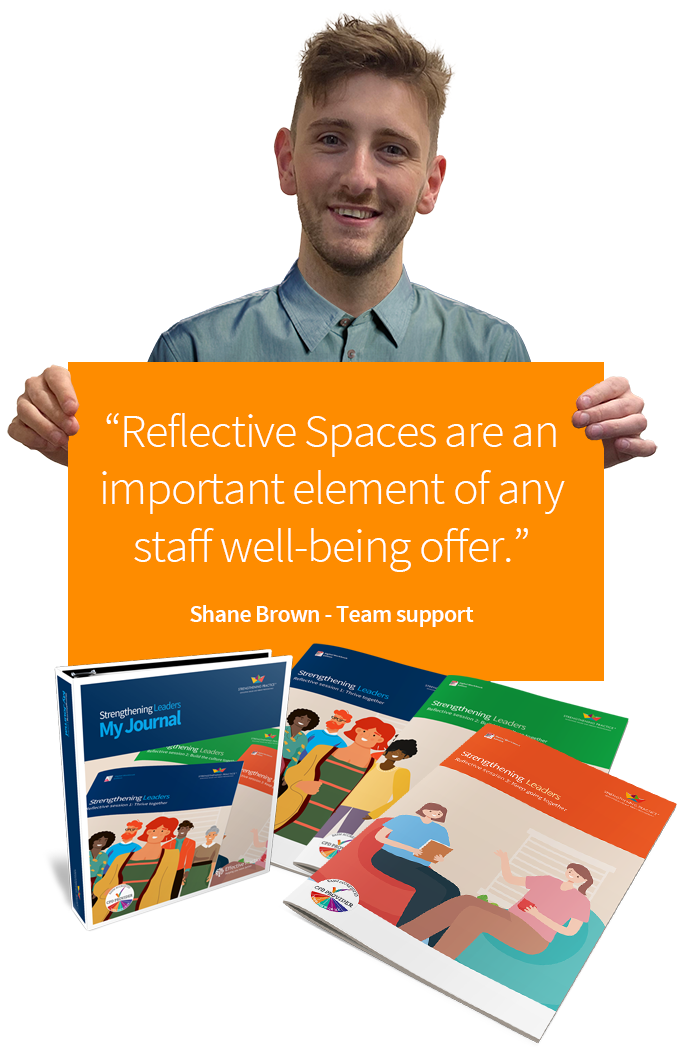 Reflective spaces, coaching and team well-being
Here at Strengthening Practice, we believe that because we are outside of the pressures and daily busyness of large organisations, we are in an ideal position to coach and support people to make safe decisions, carry out helpful interventions or to think their way through 'stuck' cases and situations.
We can make space for practitioners, managers and leaders to talk through their fears and worries about working in difficult environments and to explore their own goals in a confidential setting with an experienced facilitator.
Facilitated Reflective Spaces for practitioners
The addition of a Reflective Space using a coaching approach can complement and enhance the effectiveness of your existing supervision relationships and staff support provision. A reflective space allows for individuals, or teams, to be supported to identify and work with their own solutions and ideas and allows us to step away from being the 'fixer' or 'teller.' Reflective Spaces are an important element of any staff well-being offer.
All of our staff are experienced in supporting individuals and teams using a coaching approach, alongside substantial experience as practitioners or managers in social care settings.
Individual 1-1 Reflective Space Coaching – Small Group Reflective Space Coaching
Our 1-1 or Small Group (up to 8 individuals) Reflective Space Coaching will provide the opportunity to access up to three, one to two hour coaching sessions. It is a safe and confidential space that can provide a valuable opportunity to think differently and explore things in new ways.
Examples of how our coaching offer may be used: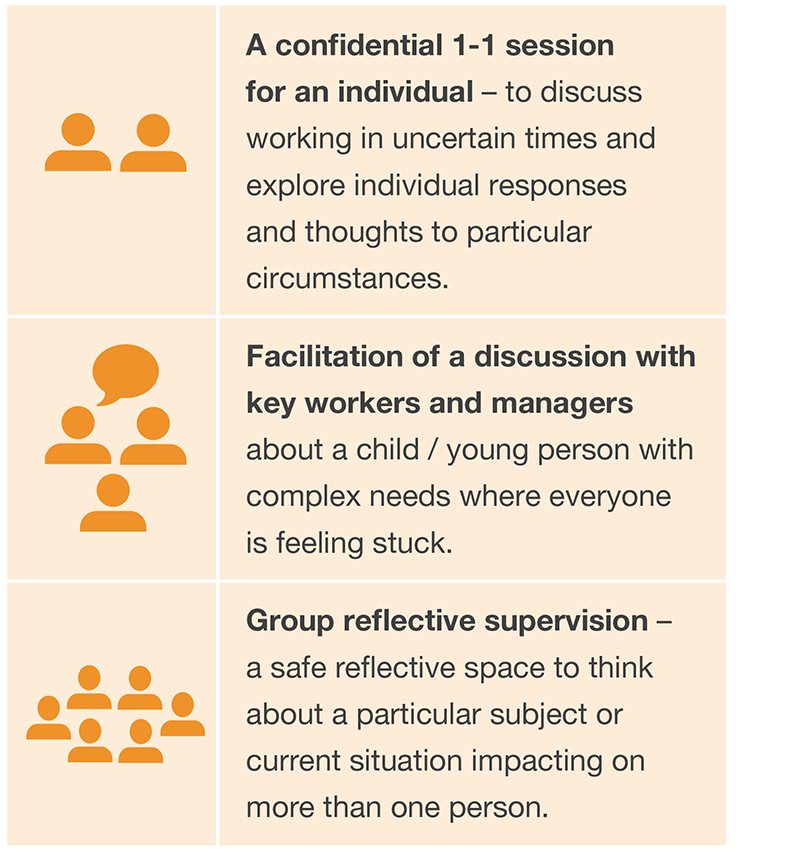 Each session will use a reflective coaching model and allow time to explore the issue and to identify a goal, strategy, tool, approach or idea that can be taken away.
Where appropriate we will support the session with materials or tools from our own comprehensive Strengthening Practice workbooks and materials, or other available resources.
Team Developmental Coaching
The impact of coaching is still mainly identified at the level of the individual's development, rather than on organisation-wide performance or organisational development. However, there is increasing interest in considering the wider organisational benefit and impact of developing a coaching approach.
Our bespoke Team Developmental Coaching offer will introduce individuals in teams to the usefulness of a coaching approach at the same time as supporting that whole team in developing their effectiveness, communication, and performance together.
Over a six-month period, meeting face-to-face monthly, our coaches will work with the team around two objectives:
Enhance the effectiveness of team performance.
Develop coaching skills as a medium for self-regulation.
Through Team Developmental Coaching your team will develop an awareness of team dynamics and effectiveness, and their own individual contribution to that. This Team Developmental Coaching offer is an ideal opportunity for whole teams to learn about each other's functioning and how that relates to team effectiveness. The team will experience a coaching approach and be supported to learn the skills and approaches for themselves.
We will design the programme specifically to meet the needs of each team, paying attention to any developmental needs identified.
For example: team dynamics, communication, workload pressures, job roles. For this reason, the Team Developmental Coaching offer is bespoke and would require a further commissioning discussion with the identified team.
Reflective spaces for managers and leaders
Aims of the programme
These are relational, reflective sessions that build vision and identity, enable teamwork and a strategic mindset. The overarching aim is to enable leaders to thrive professionally and personally so that they can be better leaders and deliver positive outcomes for the children and young people they serve.
The learning aims draw on:
1.  Evidence of what supports good leadership Developing effective leadership (www.researchinpractice.org.uk)
2 . Key areas from Ofsted – inspections and their research and analysis paper, Joining the Dots – Effective leadership of children's services, including:
Passionate about outcomes for children and young people
Involvement of children and young people
Vision for improvement with values and strategy
Transformational approach
Self-care and attention to well-being
Working with complexity
Clear accountability
Attention to culture
Attention to relationships
Communication and collaboration
Practice oversight and appropriate practice challenge
Risk management
Critical reflection
Self-challenge and culture of learning.
3. Themes arising from commissioning discussions with the Director, such as:
Building the identify of new service managers
Developing relationships within the cohorts and across the whole leadership team
Creating a shared vision and mission
Supporting theme working as well as specialist working
Enabling sustainable work across the team
Leading by example across the organisation
Managing the relationships and expectations of external stakeholders.
Programme Components
This six-day programme comprises three reflective and one review sessions, which broadly cover the areas of:

Internal within the leadership group
Internal within the organisation
External beyond the organisation
1. Thrive together
(2 x 1 day sessions)
• Build relationships within the leadership group
• Create a shared identity and story
• Build investment in a shared vision and mission for children and young people.
2. Build the culture together
(2 x 1/2 day sessions + 4 x 1.5 hour group coaching sessions)
• Embed shared values in how leaders work
• Develop a transformational leadership culture
• Harness the potential of the organisation's people.

3. Keep going together


(1 x 1 day session)
• Enable strategies for self and organisational resilience
• Enable collaboration for improvement
• Embed critical reflection and learning.
4. Review and embed (1 x 1 day session)
The programme is closed out with a final day of follow-up, including setting next actions to embed the learning outcomes.