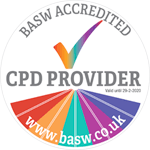 High quality training programmes and balanced practice frameworks to empower social workers, healthcare professionals, managers and leaders.
"Va-va-voom put back into my job!"
Durham Strengthening Managers Programme
"Very useful and interesting workbook that will help with further learning and training; very engaging trainer."
Telford Strengthening Practice Programme
Our values and principles
We formed Strengthening Practice driven by the same goal that keeps social workers and health professionals coming to work every single day: the overwhelming wish to make a positive difference to people's lives. Together, we can bring about lasting and measurable improvements to the lives of children, young people and families.
We're not afraid of a challenge
we work where our help is needed. We can support you to identify the key areas that need attention – then implement flexible and responsive training modules that focus on the areas your staff will find the most useful. We'll measure and demonstrate the long-term impact of the training so you can see the positive difference we're making together.
We only work with a small number of authorities
We only work with a small number of authorities so we can become your trusted partner and a really useful resource for both staff and management. We'll help to challenge your practitioners and keep them confident, curious and driven to improve.
Everything we do is informed by emotional wisdom
Everything we do is informed by emotional wisdom. We help your practitioners feel safe to share knowledge and experience. Fundamentally, we believe that everyone is trying to do a good job. We'll reinforce your team's self-esteem to help them handle challenges – and our trainers will mediate to help address individual issues while fostering mutual trust and respect across all levels of your organisation..
Participants really benefit from having a space to reflect and apply evidence-informed research and best practice to their decision-making. This means your staff will return to work equipped with new tools and driven by renewed confidence and optimism to deliver outstanding care to those they serve.

Proud to work in partnership with...
We're incredibly proud of the changes we've helped to promote in our clients' organisations and the positive impact this has on the lives of children, young people, adults and older people.
We enjoy long-term relationships with our clients, where we become part of your team to support you and your practitioners. We work side by side with authorities as a trusted partner, contributing to improvements in practice and helping you to achieve your goals.